Worry-Free Soffit and Fascia Installation by AA Roofing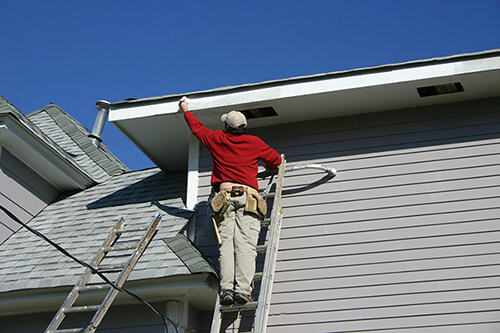 You almost never notice soffit and fascia, but they are essential components that add to your home's beauty and protection. If you want to keep your home dry and damage-free from the harshest elements, you should take time to learn about their role and how they can benefit you and your home.
Soffit: Do you see that material connecting your roof's overhang to the side of your home? That's the soffit, which helps cover anything that has a visible ceiling, including under porches, arches, or flights of stairs. By covering your home's rafter beams, the soffit prevents water and moisture from entering the structure. This reduces the potential for mold and rot. It also helps improve your home breathe by providing airflow regularly to your attic. Soffit comes in a variety of materials, including wood, metal, or vinyl.
Fascia: The fascia, meanwhile, is a board that runs along the edge of your roof. It serves as a finishing trim while holding the gutters in place. Most fascias are visible from the curb. Like soffit, it is available in different materials, from wood and vinyl to aluminum.
Both soffit and fascia protect your roof and interior spaces from the natural elements. They also provide your home with a sleek, finished look–which is the reason they are usually painted the same color. There are many opportunities for customizing soffit and fascia. Both are available in a wide selection of colors, making it easy to match them with your home's distinctive appearance.
AA Roofing: Providing your Home with a Lovely Finishing Touch
If these components are already failing, or your home actually lacks them, you should consider prompt fascia and soffit installation in Pittsburgh PA. AA Roofing, your premier roofing company can help you with this. We specialize in every aspect of your roofing system, including the components that ensure it remains in top form. With our soffit and fascia products, enhancing your home's beauty and weather protection is stress-free. We can:
Cover and uncover the soffit: Our crew can simply install a new one on top of an already covered soffit, which we'll support with an effective J-channel. If the soffit-hollow doesn't have a cover, we'll install one.
Expand the soffit: This allows the component to adjust accordingly to changes in weather and temperature.
Vent the soffit: Our professional team can vent your soffit to allow for better air circulation in your attic. This can help keep your home thermally stable and comfortable.
Work on the fascia: You'll want a fascia that blends seamlessly with your roofing, gutters, and soffit. We can make this possible through efficient installation that adheres to quality standards.
Enhance and Protect Your Home with Soffit and Fascia
When in need of a premier roofing contractor who can upgrade your roof's performance and keep your home damage-free, turn to AA Roofing. Call (724) 351-0488 or (412) 252-2750 today to learn more about our soffit and fascia products and services. You can also use our online contact form to request a free consultation.