AA Roofing: Professional and Reliable Skylight Installation in Pittsburgh, PA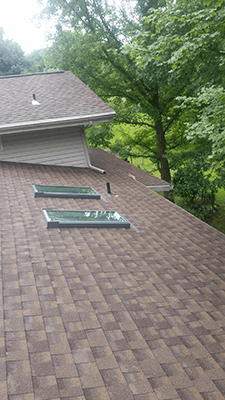 Skylights are becoming more and more popular among home and property owners who wish to benefit from increased natural lighting, enhanced aesthetic appeal, and improved energy efficiency. AA Roofing, a family-owned and operated home improvement company with an A+ BBB rating, offers professional and reliable skylight installation in Pittsburgh, PA and the surrounding areas. We have teamed up with the biggest skylight manufacturer–not only in the US, but in the whole world–VELUX. This allows us to provide the best quality skylights.
The Benefits of Installing Skylights
There are a number of reasons why you would want to install skylights in your home or property, including the following:
Better energy efficiency: By installing skylights, you will lessen your dependency on artificial lighting. This can help reduce up to 10% of your electricity consumption. Aside from providing natural lighting, skylights can also make your home warmer and more comfortable during the cold months.
Healthier indoor environment: Skylights can keep your home dry, allowing the elimination of health problems associated with excess indoor moisture, such as respiratory problems and allergies. Not to mention, you can also get your healthy dose of vitamin D, even if you are indoors!
Enhanced aesthetics: The natural illumination that skylights offer is still the best lighting system that a home could have. Daylight will make a room brighter, illuminate and enhance colors in your interiors, and highlight design details.
AA Roofing Skylight Installation: What to Expect
Skylight installation methods may vary depending on the type of skylights as well as the area of installation. A skylight may be deck-mounted, curb-mounted, or pan-flashed.
Deck-mounted skylights combine pre-finished wood frame, insulated glass lens, and protective cladding. These are mounted directly on the roof deck.
Curb-mounted skylights consist of a maintenance-free frame and insulated glass lens. They are designed to be directly mounted on a site-built curb.
Pan-flashed skylights are made up of insulated glass and maintenance-free frame. These are flashed units that have their own metal pan-flashed curb.
Contact AA Roofing Today to Get a Free Estimate for Skylight Installation!
To learn more about our skylight installation service and get a free estimate, feel free to call us at (724) 351-0488 or (412) 252-2750. You may also reach us through our online contact form.