AA Roofing: Quick and Efficient Chimney Pointing Work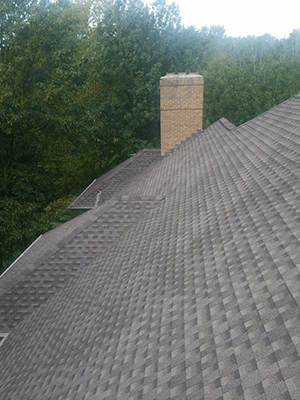 On cold, rainy or wintry days, nothing says "comfort" better than a crackling fire to warm your toes against. Fireplaces are a cherished feature of the home and often a focal point in various living areas. They can also add considerable value and aesthetic appeal to your home.
The downside to having a fireplace, of course, is the fact that it – and its chimney, which we often forget about totally – will need maintenance to keep on looking beautiful and functioning smoothly. Like everything else in the home, chimneys are exposed to the elements on a daily basis. Unless properly maintained, the mortar between the joints can slowly degrade and fall out, leaving your chimney vulnerable to moisture damage. It could consequently crack and crumble, leading to costly repairs.
Quality Services from Professional AA Roofing Contractors
Worry no more: AA Roofing, a top-notch roofing contractor that serves communities in and around Pittsburgh, PA , has just the solution you need. Our highly trained crew knows just what to do to restore your chimney and ensure that it remains in tip-top shape. In a procedure known as chimney re-pointing, we remove the damaged old mortar from between the brick joints and replace it with new mortar or masonry repair caulk.
Having the repairs done by seasoned roofing professionals in Pittsburgh PA ensures that your chimney stays true to its original design while gaining a new lease on life. Prompt repair work done by a trained crew can stop the damage in it tracks, saving you from a lot of potential headaches and costly fixes later on.
AA Roofing is Committed to Customer Excellence
Don't let age and weather get the best of you. Catch your chimney problems early and enjoy the multitude of benefits AA Roofing brings with the superior craftsmanship and customer excellence we deliver on every project we undertake. When it comes to your home, trust only a contractor that knows the meaning of being the best – at AA Roofing, we've trained and earned multiple coveted certifications from the industry's leading manufacturers, including GAF, and maintain an A+ BBB rating.
Trust your Chimney Pointing Work to AA Roofing
Aside from Pittsburgh, you can also take advantage of AA Roofing's chimney pointing services in Plum Borough, Glenshaw, North Hills, Allison Park, Gibsonia, and Cranberry Township. Our crew is available to assist you from 6am to 9pm every day. Just give us a call and speak to an expert about Chimney Pointing today, at (724) 351-0488 or (412) 252-2750. You can also use our online contact form to request a free consultation.